Contact Us
Our main mode of communication is the e-mail list, however, you may also e-mail Zenon who, while not the official leader of the group (there isn't one), is the admin for the mailing list and this website.
Spread the Joy
Leave one of our pretty flyers on the windshield of that '02 you keep spotting in your 'hood.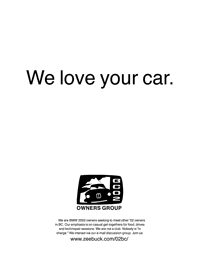 Flyer and Logo by
Rebecca Bamford and Trevor Westerhoff
Choose the style and format to suit your needs and capabilities. The .pdf version requires Adobe Acrobat Reader and is relatively low-res but is probably the easiest version to quickly download and print. The original Adobe Photoshop files along with 300 and 600 DPI bitmap files are available for those with a need for higher quality and the means to print it. Click a link to download the version that seems most useful to you - you might want to right-click and select "save target" if your browser insists on displaying the file.
8.5"x11" Flyer in Acrobat .pdf format (387KB)
8.5"x11" Flyer in Photoshop native format (.psd, 1.5MB)
8.5"x11" Flyer in 300 DPI bitmap format (.bmp, 1.1MB)
8.5"x11" Flyer in 600 DPI bitmap format (.bmp, 4.1MB)
5.5"x8.5" Flyer (2 per page) in Photoshop native format (.psd, 4.3MB)
5.5"x8.5" Flyer (2 per page) in 300 DPI bitmap format (.bmp, 1.1MB)
5.5"x8.5" Flyer (2 per page) in 600 DPI bitmap format (.bmp, 4.1MB)