Member Gallery
---
Karel Jennings
Redneckistan, AB
UPDATE, December 2004 - Karel lost this car to a garage fire while it was in mid-restoration. Fortunately, he and his friend escaped serious injury, though the garage and all its contents were destroyed. He has vowed to find another 2002 and start again.
In 1997, at the tender age of 16-and-a-half, Karel became the second owner of this rust-free sun-belt '02. Not a bad first car for a punk kid! While still living down south, Karel made sure it saw its fair share of track time. Unfortunately, after a few years of fun in the Florida sun, he was banished to Grande Prairie, AB - a land so barren that his is the only '02 for hundreds of miles around and where BMWs in general are very rare and '02s, e28s, and Ladas are considered interchangeable by most of the truck-luvin', mouth-breathing denizens. So, it's no wonder he hangs out (virtually, for now) with the BC crew!
Regrettably, as a poor student, he subjected the car to four harsh oilpatch winters and four hard years of dirt roads and rock chips from "dualies" (that's redneck for "big-ass pickemup truck"). But, he just couldn't get enough of driving it. "Even when it burnt coolant, I couldn't stop" he confesses. The picture above was taken after the poor '02's Year of Storage - outside! Karel admits, "so... yeah, that actually wasn't very good for it". He also notes that he had started the "resto" work and removed grilles, AC crap, etc. "I didn't realize AC was a rare option, or I would have kept it intact but changed to a rotary compressor." He adds, laughing, "that's water under the bridge, though - I don't need no steenking AC... I need a shiny 2002!"

So far, under Karel's watch the '02 has received a new head (that figures, eh?) with mild porting/polishing, a Weber 38/38 carb, and Bilstein HD shocks in the rear. Current near-term plans include a Megasquirt EFI, coil-over suspension on all four corners (so he can easily raise it for rock crawling sessions, no doubt), a complete interior restoration, paint job, and Recaro seats. Future plans might include a turbo or more likely a 5-speed and 3.90LSD.
No stranger to cross-country '02 motoring having made the run from Grande Prairie to southern Florida (via Toronto) five times so far, Karel hopes to one day join the BC '02ers for an event or two. "To dispel all these Albertan claims that BC sucks, I gotta come down. Maybe with some resumes in hand..."
---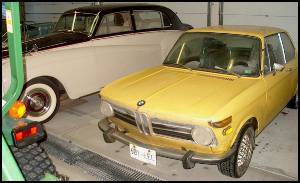 1972 2002 in PO metalflake yellow
Originally Riviera Blau, Lee's '02 left the factory on Feb 2, 1972 and came to Canada on April 4. Either the third or fourth owner, he bought the car in 2000 from a cow-orker who was leaving for the brighter lights of Lotusland. Lee figures he did well, paying only $1200 for the car along with two boxes of spare parts and the sexy Jetta GTX rims. Says Lee, "I honestly didn't know anything about 2002's before buying it. Seemed to be ok though, really no rust to speak of except the rockers. A great deal for such a fun car."
In addition to the nice wheels and subtle paint job, the car came with a pair of SK Racing 45 carbs (similar to Weber 45 DCOEs) on a TVM intake, piano-top pistons, and what is alleged to be a Dr. Schrick 284 cam. It was also running a cracked no-name header, which he had to weld up. Lee laments, "the car needs lot's of little TLC: rockers need to be replaced, it's missing lot's of chrome, paint is starting to chip in places, the seat's are all torn up, door seals... I'm depressing myself now." Lee freely admits that what he really wants to do is strip it out, build the engine up properly (it doesn't run that well now), and turn it into a race car. "I do have a turbo Caravelle here I could steal some "parts" off of... hmmm... would love to turbo the thing one day..."
---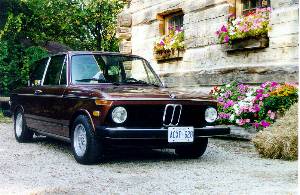 1975 2002 in Siennabraun metallic
Bought from lifetime BMW nut Martin Meissner, Kirin repatriated this former BC '02 from Chicago in July of 2005. He has since repaired the floor pans, re-done the upholstery and headliner, and installed new Bilstiens and driving lights.
Kirin's first 2002, it was Martin's fourth and had an unusual family connection - it was sold new in Victoria by his Martin's father, a BMW dealership owner, in 1975! The first owner was the aptly named "Mrs. Brown", who was a dutifully doting custodian and had had all the service done at pop's dealership until the summer of 1992, when she traded it in on a new Nissan of all things. At the time, Martin just happened to be looking for a car to take to school in Ontario when dad phoned and said "I have a 2002, are you interested in it?" Which, of course, he was. However, Meissner senior then mentioned, "there's only one problem... it's Nazi brown." But that didn't dissuade him and so it was that he drove the '02/Panzer from Victoria to Toronto.
It served Martin well over the next 3 years of college, even though he spent more money on beer than on things like oil changes. After graduation, the poor, neglected '02 was parked in a barn for about two years until one day the guilt was too much to bear and he took it to the HUMMER dealership that he was working at - where the forlorn '02 was restored along with Martin's karma. It became his summertime-only toy and was spared from the harsh Chicago winters. Martin's upgrades included Eibach springs, Bilstein HD shocks, a Weber 32/36, a short-shift kit, and, perhaps inevitably, a ZF quick-ratio steering box. (What? No ZF LSD?) "Carcar", as Martin lovingly refered to it, became a great runner and in 2002 took him all the way from Chicago to Keystone, Colorado for the BMW CCA Oktoberfest - without skipping a beat.
Siennabraun is not a colour you see very often anymore and for a while was out of favour, but Martin said it got a lot of positive comments. Martin even brags that "those of you who know your BMW literature will know that it was an identical car to this that was in the 74/75 2002 brochures." So there!

---
Ron Dempsey
West Vancouver, BC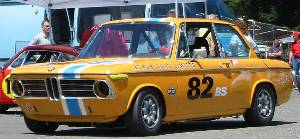 1972 2002tii racecar
Ron's newest toy is possibly the ultimate manifestation of the '02 sickness - a racecar! Affectionately dubbed "The Flying Pig" by the previous owners and sporting tasteful pink/yellow/purple colours, it spent many years racing in SCCA events all around the eastern US. The car is a tii, however to comply with the pre-1970 equipment rules of the SOVREN vintage racing series, it has been converted to dual Weber DCOE carbs. It is now painted in period-correct "Beach Auto" colours.
VIN: 2585275
Ron acquired his '73 roundie in April of 1999 from its original owner in Owen Sound, Ontario - with less than 69,000 miles on it! Quite possibly the only rust-free unrestored '02 in existence east of the rockies, it had been hidden in a garage for most of 20 years before Ron hit the '02-nut's fantasy jackpot. Of course, sitting unused and neglected for 20 years will still take its toll - the exterior looked rough and the braking system needed complete replacement. However, the engine eventually started just fine!
Ron's first impulse was to to re-paint the car in another, more current, colour. Fortunately for posterity, he changed his mind after a single polishing session resulted in a beautiful, original finish! Now, the Sahara colour has really grown on him. "It is very indicative of the period when the car was designed, and I think all of the quasi-industrial flat german colours are kind of cool now - like Riviera, Colorado and others" enthuses Ron.

Ron's plan for the car has been to keep it looking stock while carefully upgrading performace items in keeping with the car's character. Modifications to date include a Weber 32/36, 320i radiator, H&R Springs, Bilstein HD's, complete 1977 320i brakes with vented rotors in front, stainless braided brake lines, sway bar end links with urethane bushings, and a set of 320i turbine style alloys with 175/70/13 Bridgestone Potenza RE71s.
Ron has driven the car in many driving schools and track lapping days and reports it has performed wonderfully. "It certainly takes more work to drive it versus a modern car, but it's amount of driver feedback has taught me lots."
---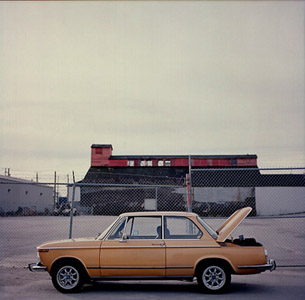 1973 2002tii in Ceylon metallic gold
This exceptional 1973 2002tii is Nic's first car, ever. He had to have an '02... nothing else would do. Not knowing anything about cars except which ones look good, he knew he needed to find an '02 in basically brand-new condition. So he searched and searched... and emailed the local BMW club execs. Nic's persistence was rewarded when he received a reply from our very own Ron Dempsey with a hot tip on a sweet Ceylon '02tii that was for sale in Burnaby. So, Nic hooked up with the Ceylon tii on March 3, 2001 and has driven it every day ever since - except when it has issues... Nic thinks his car is the nicest '02 you will ever see and that the colour is without a doubt the best colour ever made. Nic has no plans for his car other than to keep it the way it is now. Nic is a 4th year UBC student and does mostly skateboarding photography. You can see some of Nic's work on his personal website.

---
Renato Teh
Vancouver, BC
Renato's three criteria when he was searching for a 2002 were that is must be a tii, have no rust, and be useable as a daily driver. His high standards were eventually met when he found this "dry as a bone" California car in Kitsilano in January of 2002. It had been imported by its previous owner, a computer engineer. Renato happily paid the full asking price and drove away quickly, before the seller could change his mind. The car is unrestored and is in very original condition. Channeling Muhammad Ali, Renato says he loves the "enigmatic and charismatic pleasures that this tii delivers whether they be aesthetic or athletic" and that his affection and respect for the tii has only grown with time. His favorite tagline: "It's old but bold!" Future plans for the car include some H&R springs (1.25" drop), Bilsteins, Cibie fog lamps, and the removal of those awful front spacers. Renato has owned other BMWs since the early 80s, including a cinnabar red E30 M3. Renato's current quest is for what he describes as the "OH TWO holy grail": a rust-free, factory 1972 Alpina tii.

"Never lift!"

---
Bob Johnston
Vernon, BC
Bob saved this '02 from the crusher in 1978. Literally!
The previous owner, a Mormon minister, bought the car in September 1971 and drove it from Vernon to Calgary every weekend to attend his "flock". The car had quickly accumulated 79K miles by the time he drove it into a fence post in November '75. He took the remains to an el-cheapo body shop where they welded-on a '74 outer nose panel then ground away all the paint along the bottom of the doors and quarter panels. At that point, the minister abandoned it at the shop. There, the broken '02 sat with no hood, rear window, or driver's side window, and served as the shop's dumping ground for unused paint, until the shop went out of business in 1978.
Enter Bob. Just as he was asking the body shop owner about the sad-looking '02, a tow truck came to take it to the crusher. "If you want it, pay me $200 for the work I have in it," said the insolvent bodyman. Sold! Bob didn't know what to do with the car right away and so put it into storage. In the spring of '79, he moved it to his garage. This turned out to be very good timing because, just two weeks later, a massive fire at the storage facility immolated over 30 cars and 50 boats! The blue '02 was spared once again.
That summer, Bob salvaged a good nose panel, hood, fenders, and interior from a '74 that had been hit by a train. When Bob took the battered interior out of the '70 and noticed that the floors were like new with not one sign of rust, he knew that it was well worth keeping the car. He completed the body repairs and put the car back on the road. The original colour was 'Riviera' blue, but Bob changed it to 'Biscay' blue during the repaint.
Bob drove the car until the spring of 1990, when an "old fart" ran a red light, swerved, then with the rear corner of his car folded the '02's hood under the windshield wipers. Since at the time the '02 didn't have a front bumper installed, the fenders weren't touched! The car looked bad but, with a little coercion from Bob, ICBC paid for the repairs. In addition, Bob sprung for some new rear quarter panels and had the car painted again. Not long enough after, however, the "new" quarters were rusting out. To his disgust, Bob discovered that the so-called bodyshop had simply welded the new parts on over the old rust! And so, Bob's lucky-yet-unfortunate '02 went in for yet another round of bodywork in September of '96, but this time at a very good-but-slow shop recommended by his brother-in-law, a Cadillac collector. The restoration work was finally completed around Easter of 1999.
Over the years Bob has done something of a "ti" conversion by installing dual Solex 40PHH sidedraft carbs, the complete interior from a '70 ti, 2002ti grilles and emblem, battery tray, the registration plate, bumpers, and numerous other small items from that same ti parts car. He's also added 1" sway bars, Bilstein Sports, an '84 318i head warmed-over by Wray Nixon, 3.76 LSD, an electric radiator fan, a Delco 60A alternator, and has had many trim parts re-chromed. Bob believes the fact that all the mechanical work was done by Wray is why he can honestly say "this car has never let me down."
---
Philip Mew
Victoria, BC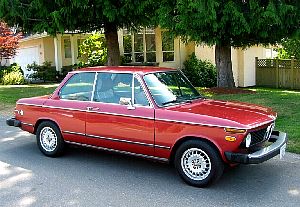 1976 2002 in Granatrot metallic red
Philip is a very long-time 2002 pilot, having purchased "Herman" way back in November of 1978 - from the original owner in Cloverdale, of all places. Philip happily states that the car is "still runnin' strong, and I fully intend to drive it for another 25 years!" Herman was born in November 1975 with a tan vinyl interior and no sunroof. Modifications include a 13" Momo "Jackie Stewart" steering wheel with satin silver spokes, Suspension Techniques springs with Koni Heavy Duty shock absorbers, 320i aluminum radiator, Weber 32/26 carb, electronic ignition, electric fuel pump. In this picture, Herman is sporting 14"x6" alloy wheels (aka "bottlecaps") from the '84-'91 BMW 3-series. Herman was repainted once, in October 1996, but all the sheet metal is original except for the front fenders. He still has perfect rear shock towers and (touch wood) has never been in an accident.

---
Zenon Holtz
Ladner, BC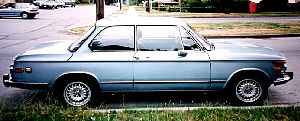 1973 2002 in Fjord metallic blue - better days
Zenon has been obsessed with '02s for over 17 years, starting with this Fjord metallic-blue '73 purchased in 1986 by his younger brother. The picture above was taken in 1991, still looking good after he and his brother repainted it in 1987. Sadly, and despite all good intentions, the car was just too rusty in critical structural areas to save and was retired in 1997 to become an organ donor for his "new" '02.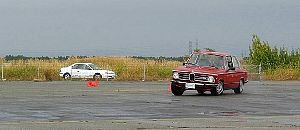 1973 2002 in Verona red
Happily the spirit and many parts of that first '02 live on in his Verona red '73, acquired in 1996. Despite the outer ugliness, the insides are beautiful and it is in fine structural and mechanical condition. It is presently his year-round daily driver. In July of 2002, he drove it over 3000 Miles (5000km) round-trip to the annual BMW CCA Oktoberfest in Keystone, Colorado, where the 2002 model was the featured "car of the year". The car is mostly stock with moderate upgrades, the most significant of which is the user-programmable, crank-timed electronic ignition and fuel injection system featuring a home-built Megasquirt ECU installed in October 2004.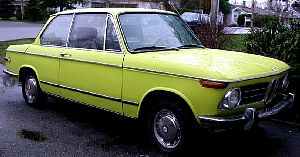 1972 2002 in Golf yellow
The reverse of his Verona '73 in terms of appearance vs. function, the non-driveable but pretty "Golf Cart" was liberated in February of 2003 from an underground garage in Kitsilano. It had been stored there for a year, after two years of sitting outside, broken and unloved. The engine now runs OK after some TLC, but the car still needs much more work. Zenon's goal is to bring it into driveable condition so that it may fill in for the '73 as daily driver during the big EFI conversion. His long-term plan is to repair the considerable rust and mechanicals as required but leave it completely stock, to act as a foil to his modified '73.
More details about Zenon's '02s, along with tech tips and many photographs, can be found at his personal website.
---
If you would like to be added to the BC '02 OG Member Gallery page, please contact Zenon for more information.