In the Beginning:
The First Vancouver '02 Meet of the New Era


The first meeting of the "BC BMW 2002 Club" took place in August of 1997. It was organized by Peter Graham and Morton Kelher (where is he now?), just for kicks. They placed an ad or two and managed to get the event mentioned in the "Wheels" column of the Vancouver Sun. It was a beautiful day and the meeting was a success, with approximately 25 '02s plus some other BMWs showing up at Spanish Banks and then taking a drive up to Whistler for a late lunch. While this incarnation of an '02-specific club only existed for a year or so and never really reached a critical mass of active members, the original meeting brought together the folks (ironically, mostly non-'02 owners) that eventually founded the BMW Car Club of BC!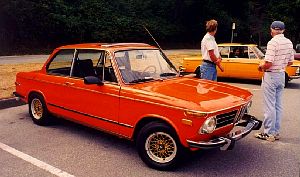 The photos shown here are only part of what is believed to exist in Zenon's film archives and are unfortunately 3rd-generation images - digital photos of 4x6 prints. Hopefully, the complete set of negatives from that historic day will be unearthed and perhaps other people will come forward with their own pictures. If you recognize anyone, let us know!